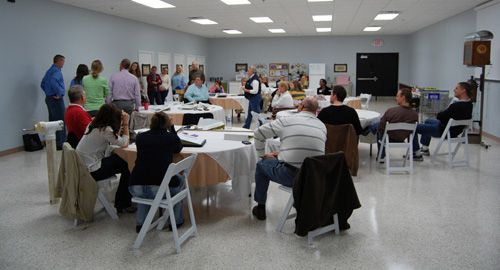 Blue Spruce Habitat strives to make each of our homeowners a success story! We offer workshops to our homeowners that are in the process of receiving homes and also the homeowners that are already in their homes.   
The role of pre- and post-purchase counseling and education is designed to better prepare families for the responsibilities of home-ownership by explaining the home-buying and financing process, encouraging financial planning, money management, and going over home maintenance and repair issues and concerns."
Teaching homeowners how to manage their home as an asset and use their equity responsibly while learning how to maintain their properties to promote safety and prevent future costly repairs is also important. Finally, leadership development programs are great for encouraging new homeowners to get more involved in their communities."
Some of the workshops that Blue Spruce has offered are:
Transition to Home-ownership
Financial Management
Computer tech workshop
Legal Aspects of Home-ownership
If you're interested in being a part of these classes or have the ability to teach a class, please contact Family Services at  303-674-1127 ext.  2
BRIDGES OUT OF POVERTY A POVERTY EDUCATION WORKSHOP
Bridges out of Poverty Trainings are part of our Keys from the Community Program, which serves as a model for communities to address poverty by equipping participants to better understand the experience of those living in generational poverty. The 6-hour Bridges out of Poverty Training is very interactive with small group discussions, videos, and a power point presentation, going over topics such as:
Mental model of life in poverty
Hidden rules of each economic class (poverty, middle class, & wealth)
Root causes of poverty
Language
Family structure
Bridges concepts are instrumental for:
 Congregations wanting to improve their outreach to people in poverty
Working professionals in education, government, or direct/social services
Businesses with customers, clients, & employees living in poverty
If you are interested in hosting a workshop for your company, church or organization, please contact Kathleen O'Leary at  303-674-1127 ext. #1
GETTING AHEAD IN A JUST-GETTIN-BY WORLD
Building your Resources for a Better Life
This workshop is based on Dr. Ruby Payne's ideas for understanding economic class to improve our situations and our communities. It is about building economic stability. People, who want to, can use Getting Ahead to build their own path to a good-paying job, to stable housing and to the ability to save for a rainy day or old age. The goal of Getting Ahead is to help create your own path for making a stable, secure life for you and your family. In moving through this workshop, you aren't going to be handed a plan and told to follow certain steps. We know that all people have their own story, and everyone is different. For that reason, it's important that each person create his/her own plan. We're all living out the stories of our lives.  Part of that story comes from our past, for where and how we live, from the people in our lives, from history and from world or national events. Who we are today was decided by what we did yesterday; who we'll be tomorrow is decided by what we do today. Whether we know it or not, we're all creating our future stories right now. You can use Getting Ahead to help create your future story.
There are 16 sessions that are held one evening a week for 16 weeks. The workshop is limited to eight participants. This allows us the personal and supportive environment to work along with each other to develop our personal plans and to create a bonding and supportive team.
This is a life changing experience!
If interested, please contact Family Services at  303-674-1127 ext. #2
Home Maintenance
One hour session for the new homeowner, providing important information on how to maintain their new home.  
please contact Family Services at  303-674-1127 ext. #2
 
---
---